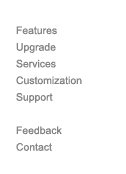 Moving Software customizes to fit your needs. Each moving company is unique. As a result, MoverworX offers a number of tools to customize the software in a number of ways in order to run your company more efficiently and maintain your unique corporate identity!
Email Template Customizations

Customize the Emails that are sent with your logo, content, "fine print" and quote layout.
Unique templates for Estimates, Booking, Closing, Cancelled, For Sale.
Unlimited templates that can be selected when sending individual or broadcast emails.


Download Email Leads Preferences

Setup email boxes to download moving leads
Choose how long to Keep Emails on the Server.


E-Remind™ Preferences

E-Remind allows you to send hundreds of emails in one click!
Choose how often you want to send E-Reminds
Choose a maximum number of E-Reminds


Web Site Customization

Make your own Data Backup Schedules

Choose where to backup you database for disaster recovery.
Choose how often to perform automatic backups of your database.


And many more!

As an owner level, choose specific customizations
Four different levels of security and preferences!