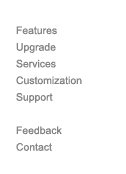 FAQ: Lease Renewal Instructions
Answer:
Customers who lease MoverworX software will be required to renew their software each month upon receipt of payment.

When your payment is posted, you will receive an email with your new Lease Renewal Key.

Instructions to apply your new Key:
1. HighLight the key with your mouse and copy it by pressing CTRL + C on your keyboard, right clicking on the page and selecting copy, or by using Edit/Copy in your email program.
2. Navigate to Start/Programs/Gingon Solutions and Click on LeaseRenewal.
3. In the blank box, paste your key by pressing CTRL + V on your keyboard or by right clicking in the box and selecting paste.
4. Press the Update Button. You will see the message Lease Successfully Renewed. You can then close this window and login to your software.

**note: If your email software has its HTML feature turned off, you will want to enable it in order to perform the above steps. Consult the email program's help or documentation for more information.
---
FAQ and Tips
Issues and Fixes
---
---
MoverworX support for moving software issues.